THE TWO-MONTH PROGRAM TO GIVE YOU THE FOUNDATIONS OF FRIENDSHIPS THAT CAN LAST FOREVER: A STRONG SENSE OF SELF, A GROUP OF LIFELONG BUDDIES, NEW ADVENTURES AND A RENEWED PURPOSE IN LIFE
Feel part of a community again
Hey there!
I think I know what you're going through. You're young, and you're feeling lost.
You're trying to figure out what your next step is. You want to make a difference in the world, but you're not sure how. You feel like there's a big gap between who you are now and who you want to be in 5 years' time.
And then there are all these friends and family members telling you that life is about more than just yourself—that it's about helping others, making a difference in their lives and in the world at large.
But how do you do that? How do you make that happen? How can one person really make such a big difference?
Well, here's the thing: it's not one person's job to change the world. It takes a village.
You have no direction in your life, but you know you should be somewhere.
You're too young to feel isolated, too young to be stressed out, too young to feel depressed.

Learning the ropes of life can be hard enough, but the wrong crowd makes it harder.

You're a young adult. You want to meet new people, but where do you look?
We are all eager to find our community. We want to surround ourselves with people who share the same values and passions as us. The Driven Young Program strives to unite a community of driven young people regardless of gender, race, religion or sexual orientation
But it doesn't have to stay that way.
But what if there was a place where you could hang out with other young people trying to discover who they are and what they wanted to be.
A place that defied normal expectations of what school and work should be, a place that created friendship and mentorship opportunities.
A place where you didn't have to understand your future right now, but could just take time to sort yourself out?
45%
of young Australians feel occasionally, frequently or always Lonely (Australia Talks)
54%
of young people lack companionship (Headspace)
43%
of young people feel isolated (Headspace)
Our program will help you get there - and help you start now.
The Driven Young Program is a two-month social program designed to help young people 18-30 years old grow as individuals by taking part in weekly challenges and meetups.
The program heavily focuses on personal development and will help you step out of your comfort zone so you can try new things, make new friends, and expand your horizons in a supportive community.
We'll teach you how to build your social circle from scratch. It doesn't matter if you're on the shy-side or if it's your first time moving away from home.
The Driven Young Program is here to give you the foundations of friendships that can last forever:
✅ A strong sense of self
✅ A group of lifelong friends
✅ New adventures
✅ Renewed purpose in life
REGISTER FOR INFO NIGHT!
Imagine if you had 100 friends in your 20s.
How would this affect your life?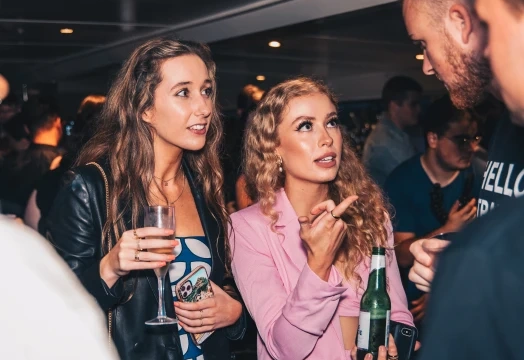 What is included in the program?
Access to a community
Weekly In person events and meetups
Online workshops
Weekly challenges
In person workshops
Mentorship and guidance
The Benefits
Imagine the possibilities when you are surrounded by like-minded friends who support each other's goals.
Exclusive Events
Get access to exclusive events such as our harbour boat party, black-tie formal night, Empower U program, bush hikes, house parties and more
Mentorship
Get access to top experts across a variety of topics such as personal finance, networking, career guidance, storytelling, creativity so you can avoid making their mistakes.
Personal Development
This program isn't just a bush walk every week. We will teach you powerful new ideas and teach you how to fall back in love with your self.
Physical Social Activities
2-Day Personal Development Program
Message from the founder
I want to change the way we view community.
I want to bring back a sense of connection and contribution, where we can grow together, support each other and build stronger relationships whilst also building a better life for everyone.
One of the paths to success is to make quality friends, but life is short and we're all lazy. Luckily for you, I've got the answer.
I've taken the pain out of building a thriving young community by providing you with everything from weekly events filling your calendar and educational workshops.
My job is to help you figure out what's important to you and make sure you achieve it.
I hope to see you in the next program.
Stay Young, Stay Driven
REGISTER FOR INFO NIGHT!
Our Partner Organizations
Topics you will learn
This program heavily focuses on preparing you for the modern workforce. Teaching you important life skills employers are looking for.
Get access to our online course with all past sessions as well as weekly live sessions teaching:
Limiting beliefs
Confidence Building
Growing online
Financial Management
Finding a mentor
Growing your network
Starting a business
Communication skills
Goal-setting
How to buy your first home
How to change a tyre
REGISTER FOR INFO NIGHT!
About Byron Dempsey
Byron Dempsey is the founder Driven Young (DYP) and host of the Driven Young podcast, the number one educational podcast in Australia for young people.

With over 1 million followers and over 700,000 podcast downloads Byron focuses on teaching practical life skills we didn't learn in school.

He is also a fully qualified presenter with the Empower U program, a two day life skills event for young adults and a published best selling co-author of the book "18 and lost? So were we"

He believes young people are most lost, overwhelmed and disconnected than ever before and aims to provide practical education and connect young people
around the country.
Introducing your new mentors
Each program is supported by a team of mentors who volunteer their time to help run events, keep you accountable and support you through your journey.

Our mentors are all "Driven Young" people and have been involved with the program since the beginning.
Annelise McCarthy
Annelise McCarthy is a Women's Speaking Coach who empowers women to master the skills of confidence, communication, and Public Speaking.
Annelise is the owner and founder of 'Her Speaking Coach', a company that is on the mission to make speaking fun, empowering, and sexy for women globally.
Pace Randolph
Pace Randolph is a musician, content creator and entertainer. With over 600K followers across social media and over 1 million streams on his music, Pace has built a dedicated community.
He is best known for collaborating with his fans to form The Choir Imperfect, with over 1500 people singing on his releases using the power of TikTok duets.
Eleanor Ivery
Eleanor Ivery (Elle) is an ambitious individual from Tasmania (lutruwita) who has a passion for helping others reach their full potential.
She is involved in the Driven Young Program and EmpowerU where she dedicates her time and energy to fostering success for others. She values community, personal growth and always looks for new adventures and good times.
Josh Van Zwieten
Josh is a mechanic, podcaster and adventure enthusiast.
He desires genuine conversations that are based on vulnerability and honesty. Whether it's cycling through the Australian alps or training for a world record, know that Josh is always smiling and chasing the laughs
Lily Wang
Lily is a boss in the world of entrepreneurship and education, passionately involved in start-ups such as the Driven Young Program and Generational Entrepreneur.
Inspiring the next generation of leaders through workshops and tournaments, all while elbow deep in dirt at the local community garden, scaring the bejeezus out of stink bugs.
Andrew Riis
Andrew has spent the last decade experimenting with the simple power of saying hello. Along the way, he's done everything from collaborate with Yes Theory, do comedy alongside a Noble Peace Prize Winner, bring an Uber driver in a helicopter, and even get Google to sponsor some of his events.
Beyond making the impossible possible, he's passionate about the power of community and connection to create joy in our day to day lives.
Who is the 2-month program for?
Young people 18-30, who don't have a built-in community in their city.
Who want to find an inclusive and welcoming community that can help them grow both personally and professionally.
Who want to meet new like-minded people who are their age and have similar interests to them.
Make friends outside of just drinking
Create friendships and relationships outside of just getting drunk on the weekends. Build genuine connections, enjoy each others company in a variety of envrionments
No more stress organising events
Are you the events organising of the group? Struggling to get the girls out of the group chat?
Let us take the stress and headache away so you can focus on enjoying the moment.
LGBTQIA+ Friendly
Our program is for everyone!
We are LGBTQIA+ inclusive, so you can rest assured that we will have an environment where you can be yourself.
Still don't believe us? I don't blame you...
The majority of our members who join are sceptical at first and this is a good thing!
However to help put your mind at ease here are some testimonials from the end of our last program.
Next Steps: Register for a LIVE information night!
Does this sound like it could be for you?
Sign up for the FREE information night where Byron will take you through how it works and answer any questions you might have.
✅ Join Byron for a LIVE session
What If I am not free for the info night?
When does the next program start?
How many people are in the program?